Shoe Ins » Safety Toe » Charcoal Closed Toe Safety Toe
Contact Us
161-0999
|

Charcoal Closed Toe Safety Toe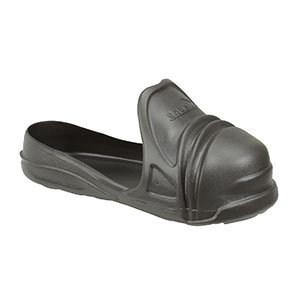 161-0999
View Detailed Sole Information
8.5x11 Printable Version
|
5x6 Printable Version
7x5 Printable Version
Note: If you need the printout to fit a certain size of paper, make sure to adjust your printer settings in order to fit your desired size.
Your Shoe In is made of high quality EVA material for lasting comfort. The shoe you wear with any Shoe In will determine proper fit. No Shoe In should be used for climbing or running as this may pose a potential trip hazard. Do not wear Shoe Ins while driving. Your Shoe In cannot prevent all slips and falls. Shoe In with Ice-Ts (Ice Traction System) should not be worn on non-ice covered surfaces. Shoe In with Safety Toes is tested to the ASTM F 2413-05 Standard but cannot comply with the standard. The ASTM F 2413-05 Standard states no overshoe can meet or comply with the standard.

Special Features: Steel Toe - Tested To, But Not Compliant With ASTM F 2413-05. Lightweight EVA. Hands Free. No Left/Right. Rinse Off. Two Slip Resisting Rubber Pads. Flex Groove Design. Fits Over Most Shoes or Boots for Temporary Safety Toe Protection.

S 5 - 8.5
M 9 - 11
L 11.5 - 12
XL 13 - 16.5
S-Womens 7 - 9.5
M-Womens 10 - 11.5
L-Womens 12 - 16.5